Download Sentence Me Guilty (2016) 720p WEB-DL Subtitle Indonesia
Download Film Sentence Me Guilty (2016) 720p WEB-DL Subtitle Indonesia Ganool Full Movie subscene torrent, Streaming watch film Sentence Me Guilty (2016) 720p WEB-DL WEB-DL 720p BluRay WEBRip online from ganool.site
Ganool.site – Download Sentence Me Guilty (2016) 720p WEB-DL Subtitle Indonesia All Subtitles Arabic, Danish, English, Farsi, Persian, French, Indonesian, Italian, Japanese, Korean, Malay, Romanian, Slovenian, Spanish, Thai, Turkish, Ukranian, Download very good quality. Download Sentence Me Guilty (2016) 720p WEB-DL Subtitle Indonesia
 Yuk NONTON Sentence Me Guilty (2016)
Download Sentence Me Guilty (2016) 720p WEB-DL Subtitle Indonesia – Ganool.site
Sentence Me Guilty / I'm guilty sentence / white suspect / sentenced me to death / 判我有罪 / 白色嫌疑人 / 判我死刑
Source: Sentence Me Guilty 2016 1080p WEB-DL x264 AC3-SeeHD
Info: https://movie.douban.com/subject/25859593/
Release Date: May 06, 2016 (China)
Genre: Drama, Mystery, Thriller
Stars: Li Xin Yun, Francis Ng, Leon Dai, Tian Xiaojie
Quality: WEB-DL
Encoder: ravenspider-imm
Synopsis: A city in northern China, 2010. Feng Xuehui (Li Xinyun), a surgeon in the Neurological Department of Hospital No. 3, reports on the death of Fang Tiantian (Li Zimeng), 4, who had congenital brain tumours and finally died after two failed operations. Fang Tiantian was Feng Xuehui's own daughter, and her death has put a strain on her marriage to Fang Wennan (Wu Zhenyu), a university lecturer. With the connivance of Hong Wei Pharmaceuticals Group, hospital vice-director Kang Furong (Dai Liren) is paying doctors a commission to use a drug, Ye'ergao (ERGLE), as much as possible, despite the fact it can cause death through over-use, and locals have already stormed Feng Xuehui's department accusing her of killing a patient. One doctor, Liu (Guo Zhongyou), begs Kang Furong to call a halt and, when he refuses, apparently commits suicide. Zhang Yue (Tian Xiaojie), from the police's Economic Investigation Department, tells Feng Xuehui he cannot rule out homicide, as deaths at the hospital have increased by 155% during Jan-Jun 2010. He asks the help of Jiang Lihang (Li Zhizheng), who also protested against the drug and is being transferred, but is turned down. When Feng Xuehui complains to Kang Furong, he points out that she signed off on every use of the drug. Feng Xuehui starts her own investigation and finds that Jiang Lihang and another doctor, Su Xinxin (Wang Di), have been building a secret dossier on the drug's use. But then Su Xinxin loses her notebook, which leaves Jiang Lihang's notes the only evidence. When Jiang Lihang's office is mysteriously raided, Zhang Yue launches a full investigation into the hospital's records.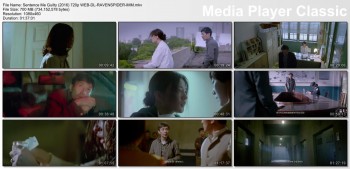 Download Movie: Sentence Me Guilty (2016) 720p WEB-DL-RAVENSPIDER-IMM.mkv
Download Sentence Me Guilty (2016) 720p WEB-DL Subtitle Indonesia.
Post by:
|
Tags:
Download Sentence Me Guilty (2016) 720p WEB-DL Subtitle Indonesia
,
Download Sentence Me Guilty (2016) 720p WEB-DL Subtitle Indonesia ganool
Categories: 2016, Asian Movie, Chinese Movie, Uncategorized